This glitch has been patched and no longer works for 1 stud walls in the official JToH. In almost all other R6 games, it still works.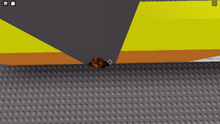 The Laugh Glitch is similar to the Dance Glitch, but the Laugh Glitch is used to clip through thicker walls. However, it is harder to pull off.
Steps for pc:
Turn on Shiftlock and position yourself flat against the wall with your camera straight up.
Turn off Shiftlock and jump once.
Turn your camera 180 degrees.
Type "/e laugh"
Once your characters head goes back all the way, press shift TWICE.
For Mobile:
position yourself flat against the wall with your camera straight up.
Turn off shiftlock and jump once.
turn your cam 180 degrees.
type "/e laugh"
Once your characters head goes back all the way, press shift lock TWICE
shift lock and unshift lock then turn and face the wall and shiftlock, keep holding jump and keep moving forward